Dalam siaran Dragon Quest 35th Anniversary Special live stream, berbagai pengumuman project penting seri legendaris ini diumumkan, salah satunya adalah Dragon Quest III HD-2D Remake.
Berawal dari game yang dirilis di Famicom, SNES, dan GBA, lengkap dengan grafis pixelated nya, game legendaris ini di remake lagi sebagai game 2.5D ala Octopath Traveler.
Buat sebagian orang, mungkin pemilihan style 2.5D ini tidak berarti banyak buat mereka, yang mereka inginkan adalah memainkan game ini dengan tampilan dan konsol baru.
Tapi untuk sebagian orang yang lebih… hardcore(?), pemilihan style 2.5D ini bukan hanya sekedar bagaimana game ini akan terlihat saat dimainkan nanti.
Keputusan penggunaan style 2.5D ini membuktikan upaya untuk tetap membawa charming point dari game originalnya kedalam remake ini, salah satunya, pixel art.
Sering dianggap sebagai sesuatu yang ketinggalan zaman bagi mainstream gamer, pada kenyataan pixel art merupakan style tersendiri yang bukan lagi digunakan sebagai bentuk kompromi pada kekuatan hardware yang ada.
Game indie seperti Undertale dan Stardew Valley membuktikan bahwa pixel game memiliki segment pasarnya sendiri yang memang mengapresiasi kreatifitas untuk menghasilkan karya seni pixel ini.
Dragon Quest sendiri sudah memulai transisi mengunakan 3D graphic sejak Dragon Quest VIII di 2004, dan sejak saat itu, hampir semua judul dari seri ini menggunakan 3D untuk penyajiannya.
Tapi Dragon Quest III HD 2D Remake membuktikan bahwa It's never too late to take few step back and embracing the pixels once again if its for the better!
Makanya ketika Dragon Quest HD-2D Remake ini diumumkan, kembali lagi, mimin teringat akan Remake dari game favorit mimin yang sayangnya tidak mendapatkan privilege yang sama dengan game ini.
And yes, what I  mean is Pokemon Brilliant Diamond and Shining Pearl! (I promise this will be the last time i did this topic… hopefully)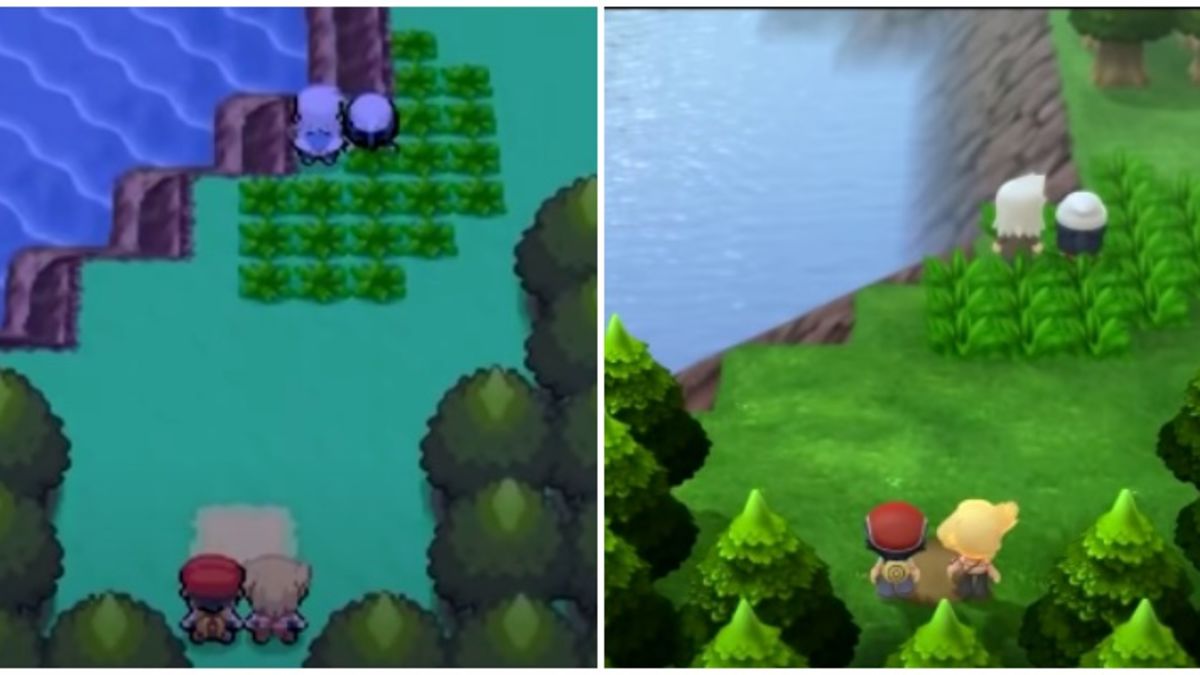 Mari kita melihat gambar yang mimin yakin kalian sudah lihat berkali kali di Internet, perbandingan antara Pokemon DpPt original dan Remake nya.
Mana yang menurut kalian terlihat lebih menarik?
Personally, mimin merasa DpPt original original terlihat lebih menarik dibandingkan Remakenya, tapi alasannya bukan semata mata mimin lebih prefer 2D pixel dibanding 3D.
I mean, kalau ditanya apakah mimin menginginkan Pokemon Sword and Shield sebagai pixel game atau 3D game seperti sekarang, mimin akan menjawab 3D tentunya.
Kenapa? karena Sword and Shield membuka lembar baru dari bagaimana perkembangan graphic game pokemon dari Gen7 ke Gen 8 dan dampaknya untuk franchise ini!
Perubahan tampilan battle screen yang dibawa oleh SwSh membawa perubahan besar bagi Pokemon, terutama dari segi competitive nya dimana Pertarungan Pokemon kini lebih menarik untuk ditonton dari sebelumnya.
Tapi kalau kita bicara soal Gen4 ini, kita harus melihat kembali apa yang membuat kita jatuh cinta pada generasi ini di 2006 lalu.
Pokemon Diamond and Pearl adalah game Mainline Pokemon pertama yang dirilis untuk Nintendo DS, dimana bersamaan dengannya Gamefreak berhasil membawa dunia yang lebih luas dan imersive, dibumbui dengan beberapa element 3D disana sini.
Back then it was an improvement from the GBA games, and thus why we celebrates the game and be the reason it became so memorable for us!
Tapi bagaimana dengan Remake dari Gen 4 ini?
Dari segi 3D asset yang digunkan sendiri, kulaitasnya hanya bisa dilihat sebagai sebuah kemunduran dari apa yang dimiliki SwSh, atau bahkan Sun and Moon dan X&Y.
Dari dunianya sendiri, mereka sudah jelas mengatakan bahwa mereka akan secara "faithful" mereplika apa yang dimiliki orginal gen 4 ke dalam 3D yang berarti tidak aa hal baru yang bisa kita expect.
Essentially, Gen 4 Remake is a mere 3D version of what Diamond and Pearl have to offer back at 2006, but instead of having state of the art pixel animation and sprites GameFreak known for at that time, what we got is a Google PlayStore quality of Ripoff Pokemon games, except its official.
________________________________________
Pada akhirnya, ini bukan masalah apakah sebuah game 2D pixel di remake sebagai 2D lagi ataupun 3D, tapi apakah remake dari sebuah game bisa melampaui ekspektasi yang dimiliki fans nya dan melampaui nya.
Dan jikalau apa yang dibutuhkan untuk mencapai ekspektasi ini adalah untuk melihat kembali ke belakang dan melihat kembali apa yang membuat versi pertamanya sukses, jangan ragu untuk mengambil langkah itu.
Semoga kedepannya The Pokemon Company dan Developer lain kedepann ya bisa menyadari bahwa tidak selamanya transisi dari 2D ke 3D adalah kewajiban dalam sebuah remake.
Sometimes, Less is More!