Da-Da Da! Udah hampir 6 minggu nih sejak version 1.5 dirilis, yang berarti uah saatnya memasuki chapter baru di Genshin Impact Ver. 1.6
Sesuai tradisi, miHoYo menyiarkan acara spesial yang akan mengajak kita mengintip sedikit apa saja yang akan hadir di update selanjutnya yang bertemakan Midsummer Island Adventure
Livestream dimulai dengan memperlihatkan official trailer untuk Ver. 1.6 yang kemudian diikuti dengan informasi lebih lengkap tentang apa yang barusan diperlihatkan di trailer tersebut.
Informasi pertama yang diberikan adalah banner gacha untuk Ver. 1.6, dimana Klee akan mendapatkan Rerun banner dan Karakter baru Kazuha akan mendapatkan bannernya setelah Klee.
Akan ada juga dua senjata baru, Satu Sword Bintang 5 dengan nama Freedom Sworn dan Bow Bintang 4 dengan nama Mitternachts Waltz yang sepertinya adalah signature bow milik Fischl.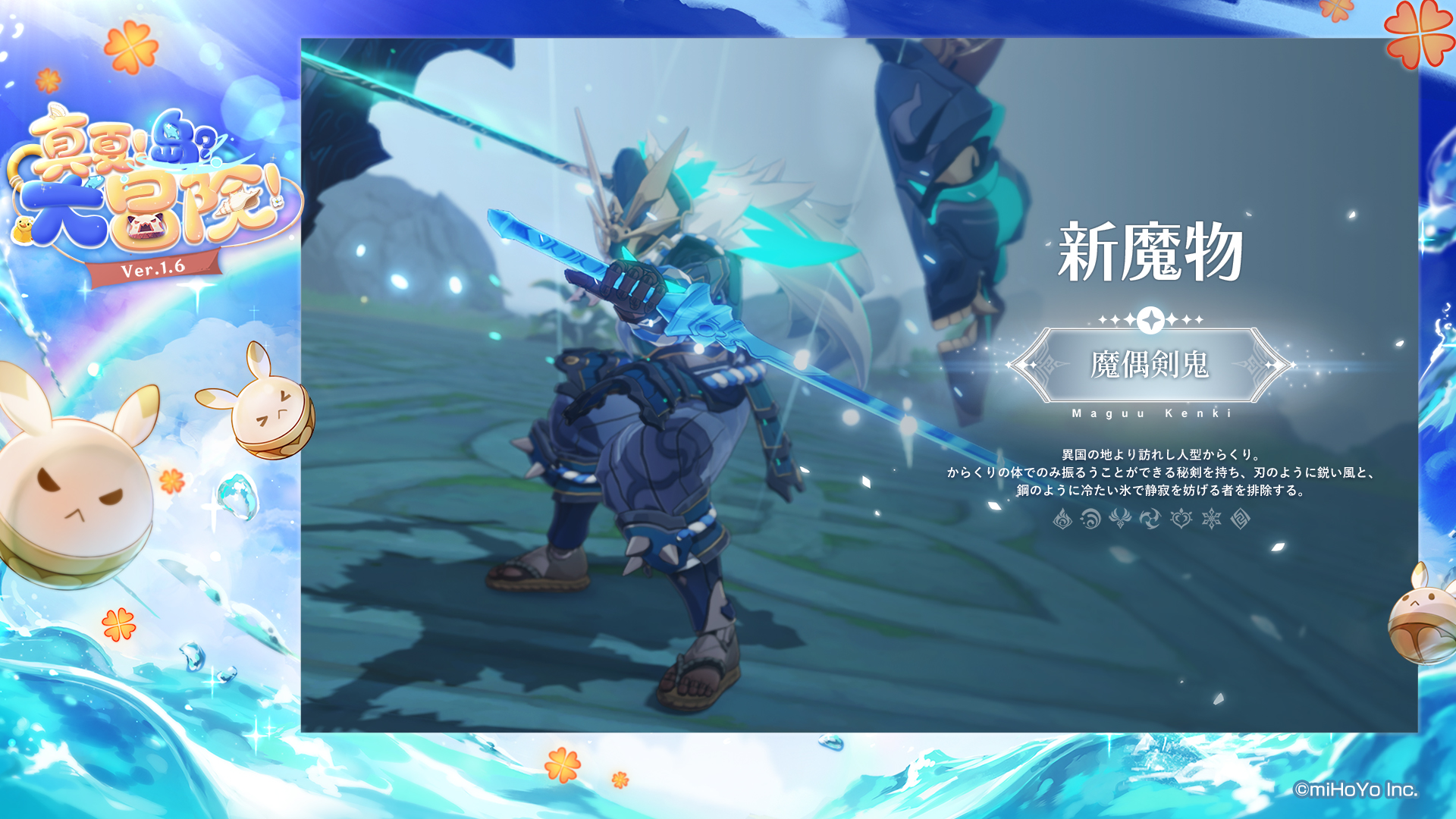 Selanjutnya adalah Informasi untuk Boss Baru, Maguu Kenki yang juga akan menjadi bagian dari Event di ver. 1.6 nanti.
Di informasikan juga bahwa Boss ini memiliki dua element yaitu Cryo dan Anemo, dan memiliki kekebalan terhadap serangan ranged dari ajrak tertentu. RIP Cocogoat User I guess…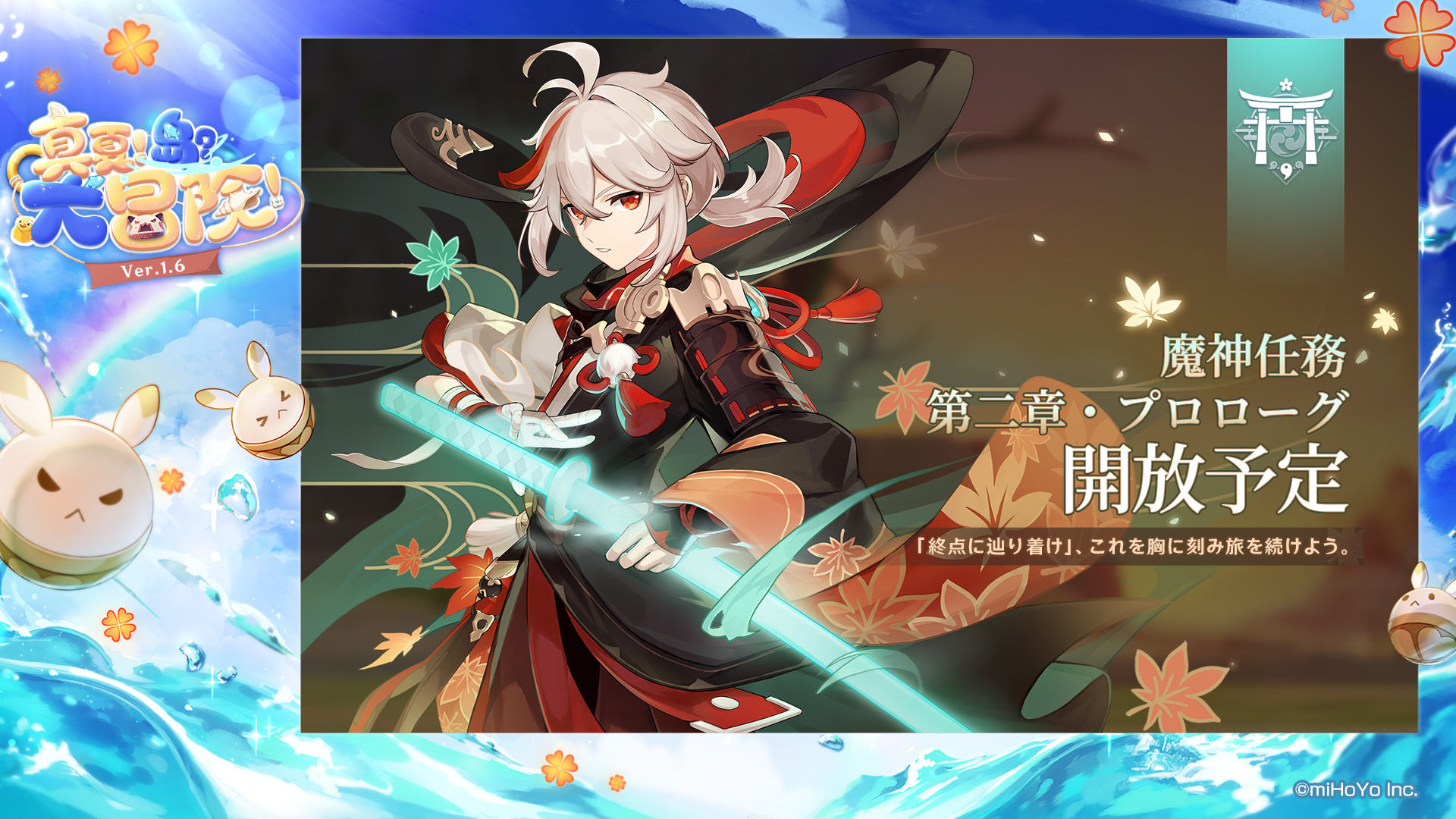 Dari sisi story, sepertinya kali ini kita akan benar benar memulai Chapter baru dimana seperti yang bisa kalian lihat, archon Quest kali ini memiliki Icon Inazuma dan Bukan Liyue lagi!
Archon Quest baru ini diberi judul Chapter 2: Prologue dan berfokus pada Upaya Traveler dan Paimon untuk meminta bantuan Beidou dan crew bajak lautnya untuk membawa kita ke kepulauan Inazuma.
Kazuha sendiri sepertinya akan memegang peranan sebagai guide kita ke Inazuma nanti, melihat bahwa ia sendiri dulunya adalah penghuni disana sebelum menjadi fugitive.
Lima Event baru diumumkan untuk Genshin Impact Ver. 1.6 dan empat diantaranya akan memberikan reward eksklusif berupa Weapon, Furniture Blueprints, Profile Card, dan Summer Skin untuk Idol kota Mondstadt, Barbara.
And Yes, We have skins for Genshins Characters now!

Skin Barbara bisa kalian dapatkan hanya dengan memainkan Event ini, sedangkan Summer Skin untuk Jean bisa kalian beli melalui Shop menggunakan Genesis Crystal (Dammit miHoYo at least let us use primogems instead!)
Last but not least, kita juga mendapatkan concpet art terbaru tentang lokasi yang ada di Pulau Inazuma nanti, sekaligus kemunculan pertama karakter yaang sudah lama ditunggu para traveler, Kamisato Ayaka, yang terakhir kali diperlihatkan pada Beta Test pertama Genshin Impact awal tahun lalu!
Took you long enough, miHoYo
_______________________________________
Berikut adalah semua yang diperlihatkan di Livestream Genshin Impact Ver. 1.6 kemarin.
Personally mimin lebih excited perihal kemungkinan bahwa pada patch 1.7, kita akhirnya bsia menginjakan kaki di lokasi yang benar-benar baru yaitu inazuma, sekaligus kemungkinan kesempatan untuk mendapatkan Ayaka di Patch itu!
Akhir kata, semoga artikel ini membantu kalian, have a nice day traveling in Teyvat!