Pada tahun lalu aktor Keanu Reeves muncul di panggung acara E3 untuk mengumumkan keterlibatannya dalam game Cyberpunk 2077.
Aktor yang terkenal melalui film The Matrix dan juga John Wick ini akan berperan sebagai salah satu karakter dalam game ini yang bernama Johnny Silverhand. Selain nama dan tampilan dalam gamenya, hampir tidak ada informasi lain yang diketahui mengenai karakter satu ini.
Setelah satu tahun terakhir para Gamer dibuat berspekulasi mengenai karakter apa yang akan dimainkan Keanu dalam game ini, developer CD Projekt Red akhirnya membagikan beberapa informasi baru mengenai Johnny Silverhand.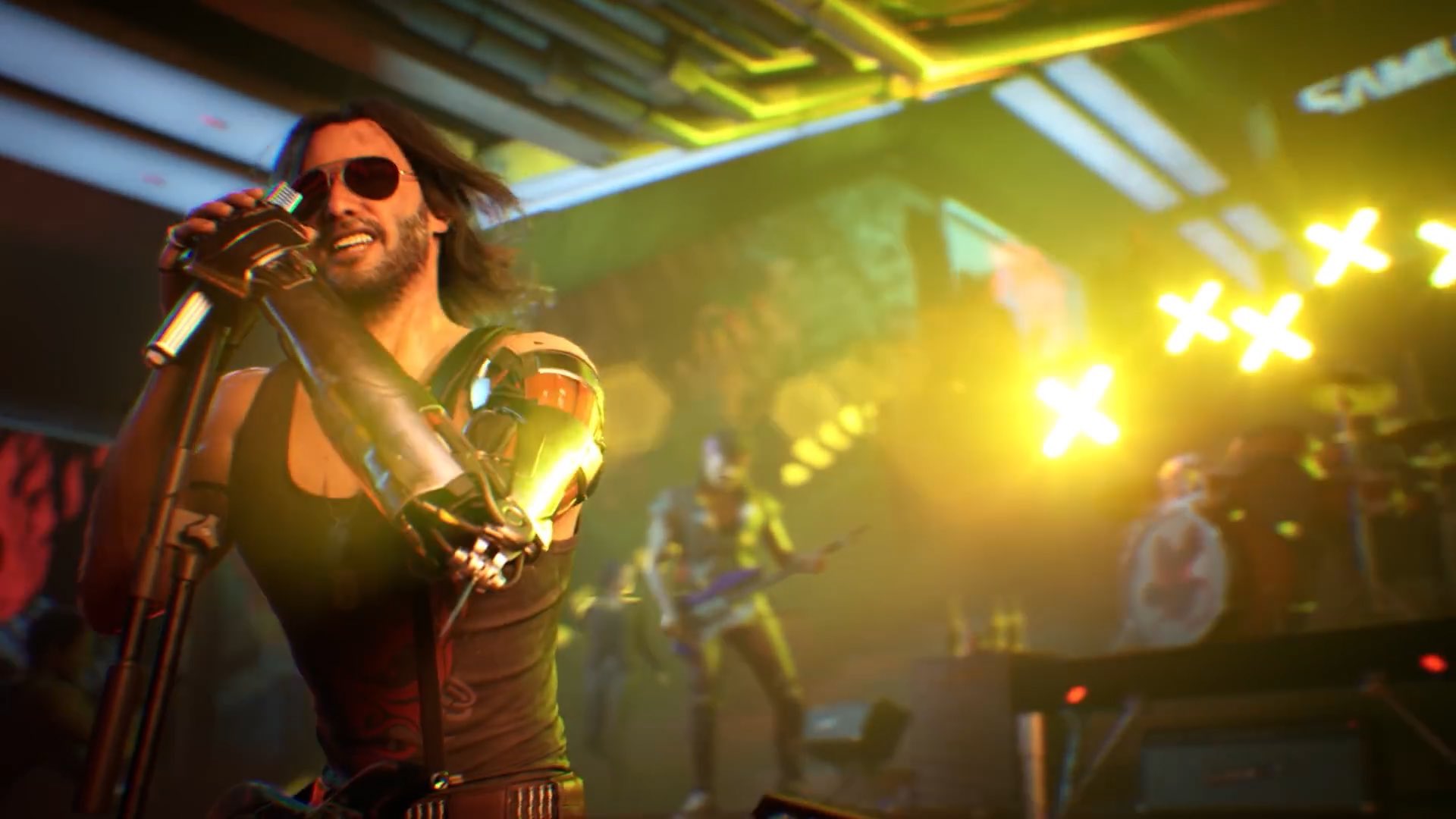 Pada acara live streaming berjudul Night City Wire: Episode 2 yang berlangsung pada Selasa (11/8) dini hari, CD Projekt Red menjelaskan bahwa karakter Johnny Silverhand adalah seorang rockstar dari band punk rock bernama Samurai.
Dari cuplikan video yang dibagikan CD Projekt Red kita bisa melihat karakter Johnny yang dimainkan oleh Keanu beraksi menghibur para penggemarnya dari atas panggung.
Dibangun dari Musisi Asli
CD Projekt Red tampak tidak mau main-main untuk membentuk karakter Johnny Silverhand. Tidak hanya menggunakan Keanu Reeves sebagai pemeran utama, karakter ini juga dibangun berdasarkan musisi betulan.
Ya, untuk menghidupkan karakter Johnny Silverhand dan bandnya, Samurai, CD Projekt Red menggunakan band Refused asal Swedia.
Band rock ini bahkan juga bertugas membuat lagu yang akan dimainkan oleh Samurai dalam game Cyberpunk 2077. Bahkan vokalis band ini, Dennis Lyxzén juga akan mengisi suara Johnny ketika bernyanyi.
Cyberpunk 2077 Segera Dirilis
Game Cyberpunk 2077 sendiri adalah sebuah game first-person shooter (FPS) yang digadang-gadang memiliki cerita dan juga kostumisasi karakter yang mendalam.
Sejak trailer pertama game ini muncul di E3 tahun lalu game ini sukses mencuri perhatian banyak penonton dengan cerita dan gameplay-nya yang menarik. Sayangnya karena beberapa masalah developer game CD Projekt Red terus menunda waktu perilisan game ini.
Cyberpunk 2077 awalnya direncanakan akan dirilis pada pada tanggal 16 April 2020, namun pada awal tahun 2020 rencana perilisan tersebut ditunda menjadi tanggal 17 September.
Pada pertengahan bulan Juni lalu CD Projekt Red kembali mengumumkan penundaan waktu perilisan game ini menjadi tanggal 19 November. Mudah-mudahan jadwal ini tidak diundur kembali.
CD Projekt Red menjanjikan jika game Cyberpunk 2077 akan bisa dimainkan di semua platform game mulai dari PlayStation 4, Xbox One, PC hingga Google Stadia.
Game ini juga akan hadir bagi konsol next gen seperti Xbox Series X and PlayStation 5.
Apakah kamu sudah tidak sabar memainkan game Cyberpunk 2077 ini? Silahkan tuliskan pendapat kamu di kolom komentar di bawah.
Untuk artikel menarik lainnya, Gamers bisa cek di sini
Sumber: